This pattern crochet is designed by Ami Saigon. It's a free English tutorial on their Youtube channel. This Happy Sun design has a video available for various parts including the embroidered face and assembly over on the YouTube channel of AmiSaigon, should you need any help working through the pattern. I hope you enjoy it! 
Pattern by: Ami Saigon Patterns
Picture: @amisaigonvn
Tutorial video: Ami Saigon Channel
Abbreviations:
R = round
mr = magic ring
sc = single crochet
inc = increase (2 sc in the next stitch)
dec = decrease (join the next 2 stitches into 1)
sl st = slip stitch
st = stitch
ch = chain
FO = finish off
[ ] = number of stitches you should have at the end of the round/row
( ) x 6 = repeat whatever is between the brackets the number of times stated
To crochet lovely star amigurumi you need:
Yarn: green color (or any color your favorite color)
Crochet hook
Fiberfill for stuffing
Sewing needle, scissors
Sun Amigurumi Keychain
Free crochet patterns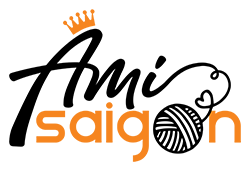 Sun Amigurumi
Start with yellow color yarn
R 1: mr with 6st                            [6]
R 2: inc x 6                                    [12]
R 3: (1 sc, inc) x 6                         [18]
R 4: (1 sc, inc, 1 sc) x 6                [24]
R 5: FLO [1 sl st, crochet 5 chain continue working around the foundation chain, in next stitch beginner from 2nd st from your hook crochet (1 sl st, 2 sc, 1 hdc), 1sl st] x 12
R 5: BLO (1 sc, dec, 1 sc) x 6        [18]
R 6: (1 sc, dec) x 6                          [12]
R 7: dec x 6                                       [6]
Cut yarn and hide the tail.
Buy Me a Coffee
Hey everyone! We make cute free crochet amigurumi patterns. We also have a YouTube channel to help you make it easier. And if you enjoy our videos and appreciate our work, please support us and our YouTube channel and
Buy Me a Coffee
. We appreciate every single cup and all the support, encouragement, and kindness you show us! Thank you for supporting us.

#AmiSaigon